Does Verizon's HTC Thunderbolt site offer a video clue to the device's launch date?
19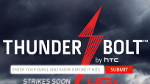 Verizon's landing page for the HTC Thunderbolt was switched on today, and on the page is a brief 15 second video of a girl counting the time between spotting a lightening strike and the sound of thunder. Supposedly, you can compute how far a storm is away from you by counting the seconds between seeing the lightening and hearing the thunder with each second accounting for 1 mile of distance from you (is it just us or does anyone else think that the sound effects were leftover from the release of the BlackBerry Storm?).
While all that Verizon will own up to is the "Coming Soon" label at the end of the video, there are some You Tube viewers who have made comments that by counting each second as a day, the girl is actually counting when Verizon's first 4G phone will be launched. Most of those who kept track say that the girl counts 10 days. Including Tuesday as day #1, it all adds up to February 24th. Sound familiar? We recently
reported
that speculation has centered around that date as being the launch date for the device.
Sure, if Verizon had wanted to pass along the launch date, why not just write "Coming February 24th" instead of "Coming Soon"? And why make a video containing a code? This is how rumors get started. And yeah, perhaps some cellphone fanatics have a little too much time on their hands. But it also shows how eager the public is to get a hold of Verizon's first LTE handset. In fact, it would seem that the HTC Thunderbolt has garnered more attention from Verizon customers than that iOS flavored touchscreen phone that was recently launched by Verizon.
source:
Verizon
via
AndroidGuys
,
YouTube