February 24th launch date for the HTC Thunderbolt?
6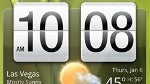 Earlier, we
reported
to you that Verizon's retail stores were beginning to receive inventory of protective cases for the HTC Thunderbolt. We noted that this might be a good sign that a launch is coming soon for the carrier's first 4G phone. According to a BGR source, the Thunderbolt will be released by Verizon and Best Buy on February 24th. Original speculation centered on a February 14th Valentine's Day release until talk of a delay spread.
Many of Verizon's Apple iPhone buyers wanted an iPhone, regardless of what other models were available (like the famous animated video of the "Phone Mart" bears). For those who want the fastest phone with the best specs, the Thunderbolt will lead off a number of Android phones that could be considered in the "Superphone" category. The latter device is, of course, Verizon's first 4G handset and offers a 4.3 inch screen. The Motorola DROID Bionic is penciled in as the carrier's first phone to sport a dual-core processor and sports an 8MP camera. And for those game players out there, as we
reported
, it looks like Verizon will be adding the Sony Ericsson Xperia Play to its line up. The device will feature a slide out game controller and Android 2.3 under the hood. All of these models bring something new and exciting to the table and it looks like it will all kick off on February 24th with the launch of the HTC Thunderbolt.
source:
BGR