Does Beats Audio on the HTC Rezound get you excited?
37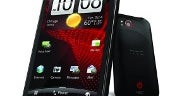 HTC has just announced its very first Beats-powered smartphone for the U.S. market - the HTC Rezound for Verizon! Of course, we've seen the manufacturer produce some other Beats-rocking phones, like the Sensation XE and Sensation XL, but those are for Europe, so the Rezound is kind of special, being the first such handset to set its foot on U.S. soil.
Apparently, HTC has taken advantage of Beats's expertise in delivering top-notch quality sound, in order to enhance the audio experience on its phones. The very idea behind this move is to help HTC customers enjoy music the way the artist intended. This will be achieved by the tweaks that have been made on software level, as well as the obvious benefit of using the bundled Beats earphones. Once you plug these babies in, the HTC Rezound will automatically realize that you are ready to experience the real Beats sound ("thundering bass, soaring midrange and crisp highs," as they put it), and will accordingly set all the special sound enhancements to on.
Of course, we wonder how many of you really consider this whole Beats thing that big. It's no doubt a pretty nice feature and an impressive differentiator for HTC, but is listening to music on your phone that important to you? And could this audio enhancement turn out to be the reason to make you consider the Rezound as your next purchase, over some other high-end phone? Now's the time to sound off, using the poll below!
Other than that, the HTC Rezound for Verizon does seem to be an awesome handset, equipped with all kinds of goodies like a 4.3" HD screen and a 1.5 GHz dual-core processor, so regardless of whether or not you're interested in Beats by Dr. Dre, this one is certainly worth waiting for.