Do you want the Galaxy S IV to have an S Pen?
52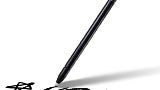 With no one starting the rumor mill about the next-generation Galaxy S, we thought - why can't this be us?! Of course, we're not really starting a rumor mill here, but just wanted you think of this: a Galaxy S IV with an S Pen of its own!
We, personally, aren't big fans of the idea, though. Sure, the screen seems large enough, but who would really want to use a stylus on a consumer device with touchscreen? Still, Samsung managed to introduce some neat S Pen features in the
Galaxy Note II
that might be found cool by some users out there.
Aside from allowing you to take handwritten notes, the pressure-sensitive S Pen also lets you easily seek through a video or cut parts of the screen and paste them elsewhere. Well, probably not something that you may want to do every day, but then again, we might be wrong.
So, how do you feel about this imaginary Galaxy S IV with an S Pen? And if you happen to like the idea, what other applications of the S Pen can you think of?