Do you plan to buy any of Sony's new smartphones (Xperia M5, C5 Ultra, Z4v, Z3+, C4)?
49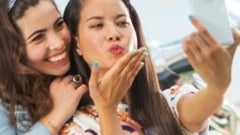 In case you haven't noticed, in the last three months, Sony announced five new smartphones, culminating with the
Xperia M5
and
Xperia C5 Ultra
that were introduced earlier this week.
Both the C5 Ultra and Xperia M5 should be launched later this month, bringing something that previous Sony handsets didn't offer. The C5 Ultra sports a massive, near bezel-less 6-inch 1080p display (possibly heralding a new design direction), while the Xperia M5 features a 21.5 MP rear camera with hybrid auto focus as fast as 0.25 seconds.
Another new handset that Sony recently announced (in June) is the
Xperia Z4v
. Notable for being Sony's first Quad HD smartphone, the Z4v will be soon available as a Verizon Wireless exclusive device.
Relatively similar to the Z4v, but thinner and with a 1080p screen instead of a Quad HD one, the
Xperia Z3+
was announced in late May, and can already be bought in various markets for around $600.
Finally, the
Xperia C4
- also announced in May - was Sony's first smartphone to feature a 13 MP front-facing camera (similar cameras are now found on the M5 and C5 Ultra), and is available for around $380.
Now that we've quickly reminded you of Sony's latest Xperias, let us know if you're planning to buy any of them (and, eventually, leave a comment to specify which one, and why you'd want to have it).