Do-it-yourself spray can make your phone or tablet resistant to water
13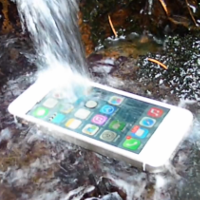 You might remember some of the amazing displays we have seen from
companies like Liquipel
and P2i, showing how they can make your phone resistant to water. In one amazing example, a tissue coated with P2i's product and placed in a container of water,
was completely dry when taken out of the container
. The water seemed to roll right off the tissue.
But now that manufacturers like Samsung, Sony and HTC are making their flagship models water resistant out of the box, others might follow suit. Already, we have seen P2i and Liquipel stop marketing directly to consumers. Not only is it expensive for individuals to lay out the money to have their phone treated, it also means having to go without the phone until it is returned by the company applying the treatment.
No one wants to ship out their pride and joy, hoping that the company treats your phone with kid gloves like you do. For that reason, you might be interested in Impervious. The company has two different systems you can buy. There is a waterproof spray that you apply yourself, to protect your phone from water damage and scratches on the screen. The spray kit is $29.95 and is available for the iPhone, and Android phones. This protects your device from spills and light rain.
If you need more protection, you can buy the Waterproofing Kit for the
Apple iPhone 5
,
Apple iPhone 5s
,
Apple iPhone 5c
, the
Apple iPad mini
and the full-sized
Apple iPad
. The price for this kit is $39.95 ($5 less for the iPad mini). Self-applied to the outside and inside of your iPhone or iPad, it gives your iDevice a rating of IPX7. This means that you can submerge your treated iPhone or iPad in up to 3 feet of water, for as long as 30 minutes, and it will emerge in perfect working condition. Impervious does not recommend that you do this, however. But you can rest easier knowing that if an accident were to happen, your phone would be protected.
Check out a couple of videos for the product, including a television ad, below.
Thanks for the tip, Justin!
source:
Impervious