P2i water-repellent nanocoating technology demo: phone waterboarding now possible
21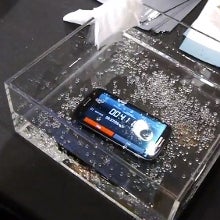 Small nanoparticles result in great features, that much we have learned since the tiny bits were discovered - from drug delivery systems to water-repellent nanocoatings, and its the latter we are interested in because of its huge potential to protect our smartphones and tablets from various liquids, but mainly water and beer.
P2i
had the newest generation of its water-repellent nanocoating on display at the MWC 2013 expo that allows you to actually submerge a
Samsung Galaxy S III
or any other phone under water as is, and was nice enough to demonstrate its features for us. The great part is that the 1/1000th of a human hair coating is invisible to the human eye, and doesn't change the look and structure of the object it is applied to, like a smartphone, but makes it
impermeable to water
.
The rep mentioned they are working with
Motorola and an "European manufacturer"
to make their phones water-resistant with the last-gen P2i tech, which we only hope he meant Nokia rather than Alcatel, for instance. Check out the cool demo below, and don't worry, once this thing hits all handsets, you can freely drool over them.