Display Mate rates the screen on the Nokia Lumia 2520 above the display on the Microsoft Surface 2
15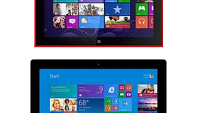 Display Mate recently ran a head-to-head comparison of the screens on the
Nokia Lumia 2520
and the
Microsoft Surface 2
. The latter tablet has moved up to an FHD display of 1920 x 1080 from the OG version's resolution of 1366 x 768. That matches the resolution on the Nokia Lumia 2520, although it should be noted that the screen on Nokia's model is 10.1 inches vs. the 10.6 inch panel on the Microsoft slate.
Display Mate was impressed with the brightness of the screen on the Nokia Lumia 2520. The slate produced the highest number of nits that Display Mate ever found on a mobile device at 684 nits. That reading was 74% higher than the 394 nits scored by the Surface 2. The color gamut, which measures the range of colors available on the tablets, was again in favor of the Lumia 2520. While the Nokia slab finished with a score of 75%, 20% above the Microsoft tablet, it is below the 100% scored by many of today's top tablets. While both tablets have good viewing angles, the Microsoft Surface 2 had poor color accuracy according to the testing.
The final grade given to the display on the Microsoft Surface 2 was a "B". The comments cited the small color gamut on the screen, but still called it a "
good display
". The Nokia Lumia 2520 display was graded "A-" and was praised for being very bright with high ambient brightness, although it too was flagged for having a low color gamut. Overall, Display Mate calls it a "
Very good display
."
"With virtually identical functionality and OS software, it is the quality and performance of the displays that really differentiates these Windows Tablets. The display on the Nokia Lumia 2520 is impressive while the Microsoft Surface 2 is mediocre and a disappointment."-Raymond Soneira, president, DisplayMate
Soon,
Microsoft will close on its purchase of Nokia's Devices and Services
, and perhaps the gang in Redmond will leave the screen design for the Surface 3 to the newcomers from Finland.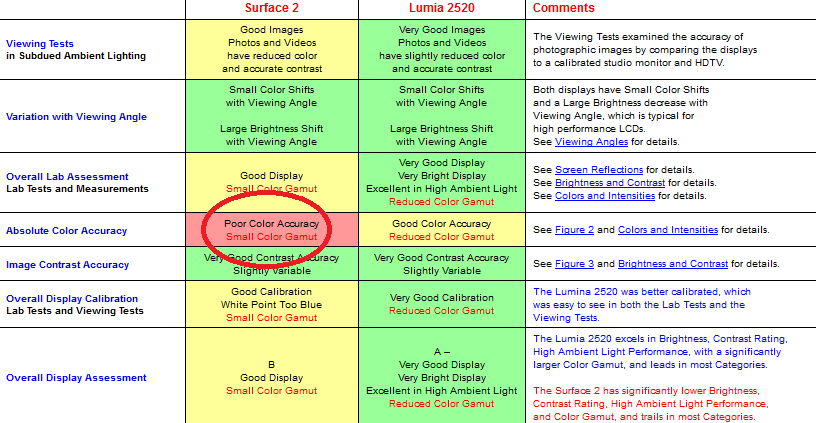 Display Mate picks the Nokia Lumia 2520 screen over the Microsoft Surface 2 display
source:
DisplayMate
via
BGR