Discussion: Is anyone excited about the Samsung Galaxy Note for AT&T?
46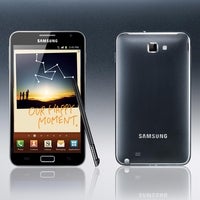 For those who need a reminder, the Samsung Galaxy Note is a blend between a smartphone and a tablet that claims to combine the best of both worlds. It offers a spacious, 5.3-inch display of very high resolution, namely 1280 by 800 pixels. Android 2.3 Gingerbread is what runs on the device powered by a dual-core 1.4GHz processor. It comes with its very own capacitive stylus, which facilitates the process of taking notes. You can even make phone calls on it, even though you risk looking quite funny if seen in public due to its dimensions. But that is not all as the Samsung Galaxy Note that AT&T is getting will have support for LTE connectivity.
Now, the big question here is will the U.S. market be interested in such a device. To be honest, we were quite skeptical about the Galaxy Note at first, partly because other manufacturers have attempted to come up with a similar product and failed, and partly because it is marketed as a phone, yet hardly fits in most pockets. However,
more than a million of these have been shipped worldwide
, considering that the device is not available for sale in the U.S. yet, meaning that there are plenty of people out there who find the Samsung Galaxy Note to be quite useful.
What do you guys think? Is anyone excited about the arrival of the Samsung Galaxy Note in the U.S., or you will pass on this one for now? Do not hesitate to share your opinion with us in the comments below.