Samsung Galaxy Note shipments reach 1 million as it gears for 2012 US release
14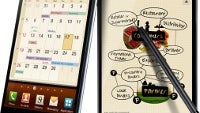 The
Samsung Galaxy Note
is a 5.3-inch beast of a device standing right between a smartphone and a tablet. It's definitely appealing to some and plain too huge to be a phone for others, but it hardly leaves people indifferent. Is it successful or not? Opinions will vary and only sales will tell the true story.
Samsung officialized the first numbers about the Galaxy Note and it seems to be received pretty well with over
1 million shipped handsets
so far. Now, this doesn't actually mean that 1 million Notes were sold - this is only a number of handsets shipped to carriers and vendors, so the actualy sales number is smaller.
"1 million global shipping of Galaxy Note means it has well positioned itself as a market creator,"
a Samsung official commented.
"Samsung will continuously strengthen its leadership in the global smartphone market as well as create new markets with innovative devices."
This warm welcome would be further tested in 2012 when Samsung has promised to make the Galaxy Note available stateside. Could this be your next phone?