Did you notice? We waved goodbye to the IR blaster of the Note series last night
59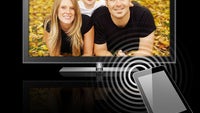 Last night was packed with revelations and excitement, what with Samsung finally having made the Galaxy Note5 and Galaxy S6 edge+ official, but while you might have thought that we got through most of the details already, there's one curious decision of Samsung's that we haven't tackled heads-on. We're, of course, referring to the infrared red blaster of the Note5 (and Galaxy S6 edge+, actually), or
lack thereof
.
As you may know, an IR blaster on a smartphone allows you to get rid of your many remotes, and use a built-in app instead to control home electronics like your TV, stereo, Blu-ray player, or even air conditioner. We've been personally using this feature whenever available with review units or resident devices, and we've got to admit that we've always liked it. It's not a deal breaker when it's not included, sure, but it's a nice something extra. For a reasons we're not privy to, however, Samsung decided to do away with the thing.
As atypical as removing features is for Samsung, the company
has
been on a mission lately, streamlining the user experience and doing away with stuff it deems inessential. It is also entirely possible that Samsung likes the idea of the IR blaster (adds another level of integration with its other, non-smartphone product lines), but discovered that the vast majority of users rarely make use of it, so axing it made sense.
Are you sorry to leave the IR blaster go?