Did you know that the world record for fastest SMS typing has more than halved since 2006?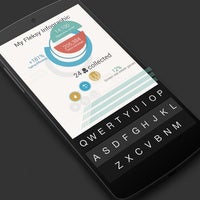 The day is November 12, 2006. SingTel, one of Singapore's wireless carriers, is hosting the SMS Shootout challenge, in which participants have to type a 160-character, 26-word text message as quickly as possible. 16-year-old Ang Chuang Yang is among the 300+ contestants, and he doesn't simply win the first place award, along with $25 000 in cash and prizes. He actually shatters the world record with a time of 41.52 seconds, thus beating the record set previously that year by 0.7 seconds.
"The razor-toothed piranhas of the genera Serrasalmus and Pygocentrus are the most ferocious freshwater fish in the world. In reality, they seldom attack a human" – this is the official Guinness World Records SMS, which he had to input on his small candybar phone.
Yang's record is, without a doubt, an impressive one. Even today, most of us would struggle to type the same text on any kind of phone in less than a minute. But the fact is that since 2006, the world record for fastest typing on a phone has more than halved thanks to the advent of touchscreens, word-prediction, and alternative keyboard technologies.
In 2010, Franklin Page took just 35.54 to enter the aforementioned phrase on his touchscreen phone – a Samsung Omnia II. But he didn't use a standard on-screen keyboard. Page used Swype instead, and perhaps the fact that he had a job at Swype helped him set the new record. In case you're not familiar with Swype, it allows one to enter words by swiping over the letters, eliminating the need to lift their finger.
Want to know how long his record held up for? Just several months. Later in 2010, 27-year-old Melissa Thompson clocked in at 25.94 seconds thanks to Swype on her Samsung Galaxy S. Again, she had to type in the very same Guinness World Records phrase we mentioned above.
So far in 2014, the record for fastest typing of an SMS has been broken twice already, and a Swype-like keyboard was used on both occasions. Gaurav Sharma used Windows Phone 8.1's Word Flow keyboard to set a record of 18.44 seconds. Then in May, 16-year-old Marcel Fernandes achieved a time of only 18.19 seconds while being observed by Guinness representatives. He managed to enter the 160 characters on a Samsung Galaxy S4 with the help of the Fleksy keyboard.
How fast can you type the official Guinness World Records text message on your phone? Let us know down in the comments!
references:
The Register
,
Tech Crunch
,
Sky News
,
Microsoft Research
,
Guinness World Records