Deutsche Telekom awaits a bid for T-Mobile that it can accept
15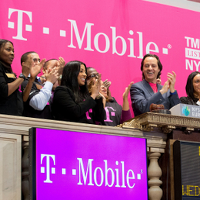 Now that Sprint has pulled back from making a bid for T-Mobile, there could be a battle for control of the fourth largest carrier in the states. Upstart French telecom Iliad
had offered $15 billion for 56.6% of the company
, a surprising bid that came out of nowhere. Deutsche Telekom, which owns 67% of T-Mobile's shares, apparently feels that this offer is too low.
Deutsche Telekom CEO Timotheus Höttges, says that he is open to a bid for T-Mobile, but only if it adds value to the company. Iliad has been
making noise about adding partners
, giving it the financial wherewithal to raise its bid. One name bandied about is Dish Network. Dish Chairman Charles Ergen late last year, said that
the company would be interested in T-Mobile if Sprint were to drop out of the bidding
. Ergen's firm figures prominently as a possible partner in a consortium for the mobile operator, led by Iliad, or as a solo bidder for T-Mobile. Iliad has been called the "French T-Mobile," with its lower rates allowing it to pick up 12% of the wireless market in France.
Deutsche Telekom's Höttges is demanding some concessions from the FCC at upcoming spectrum auctions. With favorable low-frequency spectrum up for bids, the German telecom executive said that T-Mobile can't compete with "
the big treasuries of AT&T and Verizon
." But Höttges wouldn't mind if T-Mobile were no longer his headache. Selling its 67% stake in T-Mobile would give Deutsche Telekom billions of dollars to use to battle its rivals in the German cable industry.
Iliad's rejected offer valued T-Mobile at $33 a share. In NYSE action on Thursday, T-Mobile was trading at $29.85, down $1.20. Before Sprint decided to back off bidding for T-Mobile, the shares were trading above $34.
source:
WSJ
(SubscriptionReq'd)