Deutsche Bank says Motorola has moved about 100 000 XOOM tablets so far
8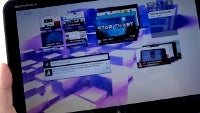 Deutsche Bank analysts say that the poster child for Android 3.0 Honeycomb - the
Motorola XOOM
tablet - has sold about 100 000 units since its launch February 24th.
While not bad for a yet unfamiliar and unproven tablet OS like Honeycomb, it is a far cry from what Apple's iPad 2 has moved so far - the estimates there are between 2.4 and 2.6 million units
shipped from suppliers
, a lot of which have been sold already.
Granted, we are still to see the global launch of the
Motorola XOOM
, but somehow we doubt the lines will be huge, because we have the sneaking suspicion that the first Honeycomb tablet came in overpriced.
Still, with the first generation Android tablets slashed to way
under $400
, and some upcoming dual-core ones
rumored to be around that $400 price point
, the XOOM will inevitably fall in price, moving a lot more units than now.
source:
LATimes