Suppliers shipped at least 2.4 million iPad 2s to Apple in March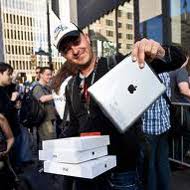 Suppliers shipped the staggering numberof between 2.4 and 2.6 million iPad 2s to Apple in March alone, hitor miss daily DigiTimes reported, quoting sources at touch panel suppliers. Iftrue, this hints that Apple could have more than doubled the amountof iPads sold as the first generation of the tablet registered 1million sold units within the first month of its launch.We have to underline, though, that more than 2.4 million shipped units doesn't necessarily mean that all of them were sold, but - judging from current availability of the tablet - sales could be very close to that number.

Further meeting the huge demand willdepend largely on the availability of cover lenses for touch panelmodules, the publication added. Taiwanese companies like Chunghwa,G-Tech, HannStar, TPK and Wintek, some of which supply Apple, are allboosting capacity in 2011 to answer the call. While the above 2 million number might becredible, we would take it with a grain of salt as DigiTimes has amixed track record.
Giving its "conservative estimate,"it also predicts that the iPad 2 will sell a whopping over 12million units in the second quarter, approaching the 15 million that the first-gen Appletablet sold for the first three quarters of its market presence. TheiPad still largely dominates the tablet market as rival companieslike Motorola haven't yet reported sales of their Motorola XOOMtablet, but could this change as more Honeycomb tablets hit shelves? Let us know your thoughts in the comments below!

source: DigiTimes