Details about the Samsung Galaxy Note 4 cameras are leaked
26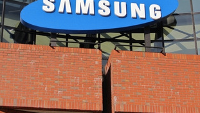 Information about the cameras on the
Samsung Galaxy Note 4
have been leaked,
just weeks before the September 3rd Samsung UNPACKED event
that will unveil the next iteration of Samsung's Galaxy Note phablet line. According to a report published on Thursday, the rear-facing camera on the Galaxy Note 4 will be 16MP with a Sony IMX240 camera sensor. Yes, Virginia, there will be OIS on the snapper, along with support for 3840 × 2160 video (UHD) at 30FPS.
If that Sony sensor sounds familiar, it is because Samsung employed it on the
Samsung Galaxy S5 LTE-A
model, although on that phone, the shooter came sans OIS. The front-facing camera on the Galaxy Note 4, will be 3.7MP. That is a bump up from the 2.1MP that Samsung has been featuring on its front-facing snappers.
Earlier this year, we told you about a feature rumored to be on the
Samsung Galaxy S5
. Called Side Touch, this feature never made it to the final build of the manufacturer's flagship handset.
Side Touch was a sensor that would have been found at the lower right of the handset
, where a physical camera button might appear. Users would have tapped on it to take a picture. The word is that Samsung will be bringing Side Touch to the Samsung Galaxy Note 4. There are some cavaets. Side Touch cannot be used on Portrait Mode, Easy Mode, and while recording video.
Samsung has also included a new "Quick Access" gesture used to turn the camera on, when the screen is off. Tapping twice on the screen, and then swiping two fingers apart, will turn on the camera application instantly. And four new camera modes have been created by Samsung for the Galaxy Note 4 camera. They are Wide Selfie, Selfie, Selfie Alarm and Create A GIF File. Sounds like Samsung has included everything but the kitchen sink for those Samsung Galaxy Note 4 users who love to take pictures.
Thanks for the tip, John!
source:
SamMobile