Despite swift change by Apple, the tech giant has yet to reveal royalty rates for streaming music
19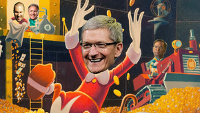 Taylor Swift took Apple to task
for its original decision not to make royalty payments to artists, writers, producers and record labels during Apple Music's three-month free trial period.
In her open letter to Cupertino
, the star made it clear that she wasn't being a rabble rouser just to line her own pockets. Maybe she didn't come out and say it like presidential hopeful Donald Trump did, but Swift insinuated that she is wealthy and doesn't need the money like a new performer might.
While Swift was the big winner in the eyes of the public
following Apple's decision to reverse its plans
, the Cupertino tech titan also managed to score some points with Mr. and Mrs. John Q. Public for its willingness to turn on a dime. Speaking of dimes, the
Wall Street Journal
says that Apple has yet to figure out how it will divide Apple Music royalty payments. Apple will hold aside 71.5% of revenue for royalties. This is higher than the 70% of gross paid out by rivals like Spotify.
Music streamed via Spotify during its 99 cents a month promotional period results in half of the royalties normally paid. And the ad-supported free tier of service pays out 20% of the regular rate. Of Spotify's 60 million subscribers, 45 million use the free ad-supported tier. In December, the streamer paid out $25.7 million in royalty payments to artists, writers, producers and record labels for songs that were streamed to listeners paying $10 a month for its premium service. Music streamed to those using the free tier earned royalty payments totaling $5.8 million.
The bottom line for Apple is that Swift's insistence that Apple pay for streaming music, even during the free three-month trial, will cost it millions of dollars and increase the price it pays to offer Apple Music. But Apple has $193 billion in cash, which means it won't take a huge hit in the pocketbook. At the same time, Apple will continue to have an outstanding reputation among famous artists like Taylor Swift. The latter even took time to praise Apple in her open letter even while disagreeing with the company. Apple's 180 degree change also cements the Cupertino company's reputation as a friend to Indie labels and the artists they record.
While Apple changed its mind, Taylor Swift did not.
Her album "1989" will remain excluded from Apple Music based on her decision
.
source:
WSJ