Despite losing market share in Q1, Apple is still on top of the tablet market
16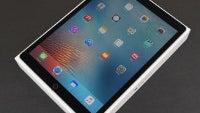 The tablet market continues to shrink. According to IDC, Q1 shipments of tablets amounted to 39.6 million units. That is a 14.7% decline from the 46.4 million slates delivered during last year's first quarter. Apple remains on top, with 10.3 million iPads shipped from January through March. Apple now has 25.9% of the tablet market. That is a year-over-decline of 18.8% from the 12.6 million slates it delivered during last year's first quarter when it owned 27.2% of the market.
Samsung is next, and the company had a larger decline in tablet shipments over the quarter than Apple did. The manufacturer shipped 6 million slates during the three months, a decline of 28.1% year-over-year. Samsung now has a 15.2% slice of the tablet pie. Behind Samsung and in third place is Amazon. The Fire Tablet manufacturer had 2.2 million units in transit during the quarter, and its 5.7% share edged out the 5.5% belonging to Lenovo. Huawei rounded out the top five, with 2.1 million tablets shipped. That is good enough for 5.2% of the market and more than doubles the 2.4% share Huawei owned during the same quarter last year. The manufacturer increased its shipments 82.2% over the 1.1 million slates it shipped during last year's first quarter.
Detachable tablets, which can be connected with optional accessories like a physical QWERTY, accounted for 4.9 million tablets shipped in the quarter, or 12.4% of the overall market. The Apple iPad Pro led the way in the detachable tablet arena, surpassing the Microsoft Surface line in the number of detachable tablets shipped. Still, IDC believes that Microsoft, which it credits for creating the detachable market with the Surface line, could grab the lead thanks to the business community's experience with Windows.
"Microsoft arguably created the market for detachable tablets with the launch of their Surface line of products. With the PC industry in decline, the detachable market stands to benefit as consumers and enterprises seek to replace their aging PCs with detachables. Apple's recent foray into this segment has garnered them an impressive lead in the short term, although continued long-term success may prove challenging as a higher entry price point staves off consumers and iOS has yet to prove its enterprise-readiness, leaving plenty of room for Microsoft and their hardware partners to reestablish themselves."-Jitesh Ubrani, senior research analyst, IDC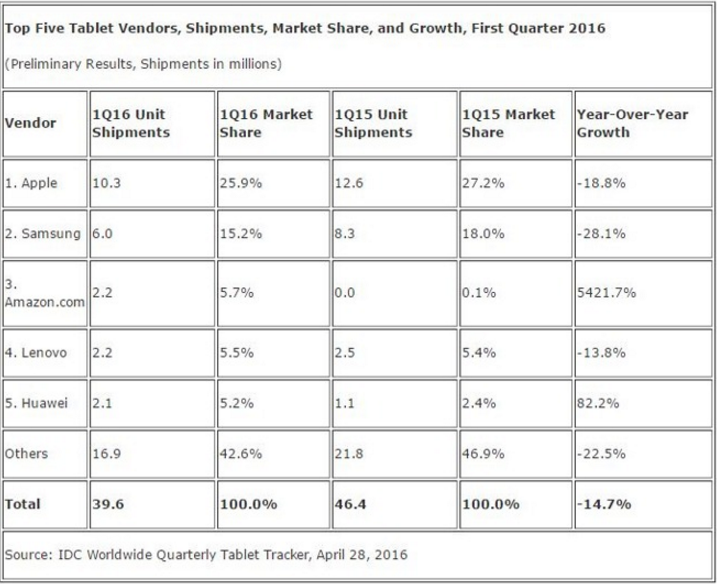 Apple still leads the tablet market despite a decline in Q1 shipments
source:
IDC
via
AppleInsider