Dell's beastly new tablet aims to kill the Surface Pro 4 with a 4K display
41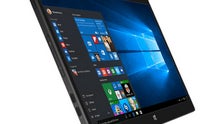 Dell's legacy may be synonymous with traditional computing, but with tablets of particular significance nowadays, it's been dragged into the mix alongside the mobile industry front-runners. Its latest effort -- a tablet that goes by the name XPS 12 (9250) -- throws down the gauntlet to the likes of
Microsoft's Surface
, featuring, among other treats, a 4K ultra-HD display.
The transition to higher-resolution mobile devices remains a work in progress, with 1080p still seen as the de facto standard for a large portion of mobile products. Indeed, while the XPS 12 does have a 4K, Sharp IGZO panel for crystal clarity, Dell is also offering an alternative edition packing a 1920 x 1080 resolution, per info shared by German blog
WinFuture.
Compatible with the Dell Active pen, the device includes an Intel Core M Skylake processor, Wi-Fi and Bluetooth, and for those seeking more flexible connectivity, an option for 4G LTE. There are two Thunderbolt 3-ready USB Type-C connectors, while storage is provided by means of an M.2 SATA SSD at one of a handful of capacities. There's also an SD card reader for easy expansion and file-swapping, while the cameras consist of 8- and 5-megapixel efforts on the back and front respectively.
Build-wise, the slate is comprised of magnesium alloy housing, which should resonate with fans of robust construction and premium finishes. It weighs 790g, and looking at the pictures and specs, the XPS 12 seems a tempting prospect indeed.
Those looking for a notebook as well as a tablet will be able to opt for one of the optional keyboards, of which there are two. There's a slick, 1.3 mm-thin keyboard that should cater to the general user seeking the versatility of a hybrid solution. There's also a higher-performing edition that features a full set of backlit keys, a glass trackpad, and a few extra ports including a USB Type-C, two USB 3.0 and an HDMI out.
Set for announcement later this month, it'll likely be beaten to the draw by Microsoft and its Surface Pro 4, which should be unveiled at Redmond's
confirmed event next week
. With Apple having also thrown its hat into the ring with the
iPad Pro
, those seeking performance tabs will have plenty of decisions to make. Though Microsoft and Apple tend to dominate coverage, the XPS 12 shows that Dell still has plenty to say for itself, and without wishing to tempt fate, this device could cause a bit of a stir.
Pricing and availability is not yet in the public domain, but hopefully, such info will come to light before it's officially unveiled by Dell. Until then, you can take a better look at the tablet below: