Microsoft Surface 3 LTE Review
49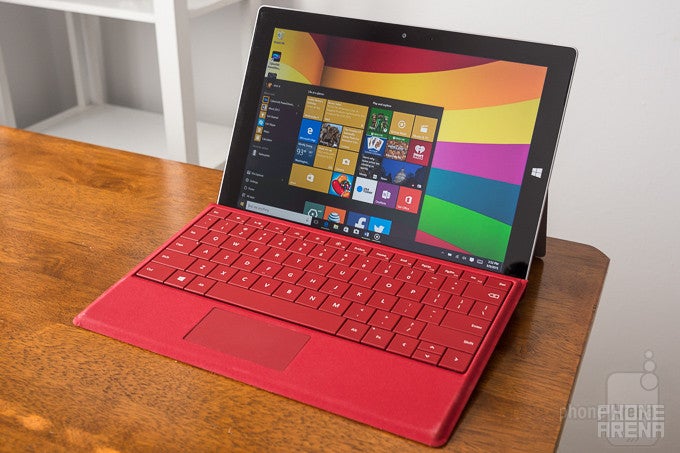 Introduction
Remember Windows RT? We certainly do, but we don't miss it at all. Microsoft tried to do something different when they first introduced its Surface tablets by reserving the full-blown desktop experience to its Pro line – and the tablet-optimized experience with its standard, non-Pro versions of the Surface. It resulted in the first
Microsoft Surface
, and subsequently, its successor in the
Surface 2
. Apparently, consumers didn't take too kindly of Windows RT's limiting experience, especially when other PC makers eventually offered cheaper tablets that ran the full Windows experience. For its latest offering, the
Surface 3
ditches Windows RT altogether and takes nearly everything we love about
Surface Pro 3
, but presents itself as a more affordable package.
The package contains:
Microsoft Surface 3 LTE
microUSB power supply
Quick start guide
Safety & warranty documents
Design
Staying true to the Surface lines' foundational design traits, it's a full-blown PC in a liberating, compact package.
Microsoft didn't change up the recipe with the Surface 3, as it employs the same angular design language of its predecessors. It's seriously a design we all know and associate with the Surface line, evident in its magnesium chassis and adjustable kickstand. While it's far more liberating to carry around than other laptops and ultrabooks, it's still thicker and heavier than some of today's prized tablets. To its credit, though, we're gladly accepting of its size considering it attempts to be more of a hybrid mobile computing device running full Windows 10, than say, your ordinary touchscreen-only tablet.
The kickstand continues to give the Surface 3 more versatility than some other tablets, since it provides us with a hands-free video watching experience, but there are now offers 3 preset angles – with one of them giving us the necessary angle to use it in our lap comfortably. One notable change to the design is the decision to go with a standard microUSB port for its charging, as opposed to the proprietary magnetic connections we've come to see in the series. The good in this is that it's an easy replacement in the event it goes bad or goes missing, but it doesn't offer the same safety protection as the magnetic connection if it's accidentally yanked off. With the LTE version, there's a SIM slot located on the bottom left area of the tablet.
Type Cover
Transforming the Surface 3 from a tablet to a hybrid laptop is achieved by picking up the any of the Type Covers, which is great if you prefer the usual typing experience over touch interaction. The chicklet styled keys might make the layout cramped, but it at least offers reasonable tactility and travel to make typing very smooth and natural. And oh yeah, it's back-lit too!
At the same time, the Type Cover doubles as a useful protective cover for the screen, and automatically turns off the screen when it's closed over. However, it costs an additional $130 to pick it up, which undoubtedly jacks up the Surface 3's ownership cost if you choose to go with this traditional typing experience.
Surface Pen
And there's also the Surface Pen! Aside from being a useful thing for jotting down notes, its other purpose is to act almost like a mouse with its hovering and right click functions.
Now that the magnetic connection for the charging port is no more with the Surface 3, it means that we'll have to be extra cognizant where we place the Surface Pen when it's not being used – or just attach it to the Type Cover by fastening it into the small groove on the keyboard. Just know you'll need to dish out an additional $50 to pick it up.
Display
Aside from its weak brightness output, the screen actually carries several high-quality characteristics.
Even though it adopts the same 3:2 screen aspect ratio as the Surface Pro 3, it's been whittled down in size and resolution. So, the result here is a 10.8-inch ClearType 1920 x 1080 display. On the numbers side, it isn't the sharpest thing with its 214 ppi pixel density, but in practical use, it's still effective for everyday use such as typing up reports and surfing the web using the tablet, just as long it's being used within reasonable distance. Its details deficiency only manifests if we're to get very up close and personal to the screen.
Impressively, Microsoft has fashioned on a high-quality display onto its Surface 3 – one that achieves favorable marks in various categories. In particular, its ~6300K color temperature and gamma value of 2.17 both indicate that. Even better, the screen is able to reproduce all colors accurately in the sRGB color spectrum chart, showing us that it's been perfectly calibrated. The only area of opportunity with it, though, is the fact that it only achieves a maximum luminance of 359 nits, which makes for a daunting challenge using it outdoors where the sun poses some issues with its visibility.
And it's also incredibly accurate with its 10 point multi-touch detection. We really can't complain about the screen aside from its weak brightness output, so it goes to show that the love didn't just stop at the Surface Pro 3.
Display measurements and quality
Recommended Stories