Dell Lightning explodes onto the scene oozing out Windows Phone 7 goodness
This article contains unofficial information.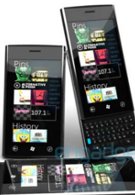 The lid literally exploded as Dell came storming onto the scene bringing with it a handset that is simmering from every seam that unwillingly catapults its name into the spotlight with their Windows Phone 7 smartphone. Everyone will undoubtedly be quickly familiar with the Dell Lightning which meshes functionality and style together to offer a compelling offering to the new beginnings that Windows Phone 7 is about to embark upon. The Dell Lightning is a portrait slider smartphone that features some truly awe-inspiring specs that perfectly matches its sweet and sexy exterior look that brings some attention to a form factor that usually gets little notice. It features a 4.1" OLED touchscreen, 1GHz QSD8250 Snapdragon processor, 5-megapixel auto-focus camera, 8GB internal storage, 512MB RAM, 1GB ROM, GPS, FM Radio, full Flash support including playback, and support for both AT&T and T-Mobile 3G. When you think of something being a behemoth, the Dell Lightning quickly comes into mind with its sheer strong showing of specs. As with anything Windows Phone 7 right now, the Dell Lightning is targeting a release date some time in Q4 with a possibility of getting an upgrade to LTE in Q4 of 2011. It's truly impressive to see Dell come out really swinging for the fences and this device easily takes the cake from all the other manufacturers so far that are on board with the new platform.
source:
Engadget