Deal: save up to $200 on the beautiful Huawei Watch
14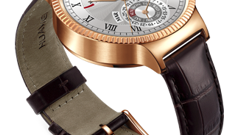 The smartwatch arena is a bit of a vanity parade right now, in that the best-looking ones are generally the most appealing. From a functional standpoint, neither the hardware, firmware nor software has matured to the point where one might consider the real
need
to buy a computer for the wrist. The
Huawei Watch
, like so many of its peers, is a pricey hunk of metal, though its intertwining of traditional timepiece charm with modern-day geekdom is commendable. If this device has caught your eye but you couldn't justify the cost, you'll be pleased to learn that savings of up to $200 can be had for a limited time.
There's a healthy stream of price slashes over at Amazon on a variety of Huawei Watch configurations. The
rose gold-plated stainless steel model
with the brown suture leather strap gets the biggest saving, at $200. Sure, it'll still set you back $499.99, but there are plenty other cut-price variants that will drag you into the smartwatch game without hitting your wallet too hard.
For example, the stainless steel version with the black sutre leather strap is down $100 to $249.99. Sure, it's not as flashy and extravagant as the rose gold model. But it should be noted that the interior hardware is just the same, so you'll see identical performance irrespective of which watch and strap combo you opt for.
As a refresher, the Huawei Watch packs a 1.4-inch circular AMOLED display, and is compatible with both Android (4.3 and up) and Apple's iOS (8.2 and up). If you'd like to take a more in-depth look at what the wearable has to offer, do take a peek at
our review
.
Will you be jumping on any of these deals, or are you waiting for the next wave of wrist candy? Be sure to share your thoughts with us below.