Deal: Stainless steel Apple Watch and leather band for just $279 ($70 off)
9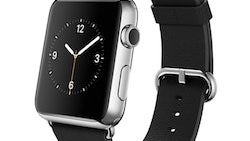 If you own an iPhone, your selection of smartwatches is somewhat limited. While you can technically use Android Wear and other gadgets with your handset, Apple's tight grip on iOS means that your best experience is still going to be had with the Apple Watch. The Series 1 and Series 2 are the latest batch of Watches that Apple currently has to offer, but if you're looking for a deal on the first-gen Apple Watch, Amazon is currently running a deal that may be right up your alley.
Between now and 3:00 AM Saturday morning, Amazon is selling a 38-millimeter Apple Watch for just $279. The model in question features a stainless steel body and black Classic Buckle, and with this deal you're looking at a savings of $70.
The original Apple Watch isn't quite as snappy as the Series 1 or 2 due to its older processor, but when you consider that the Series 2 Apple Watch with a stainless steel body starts at $549 with a silicon Sport Band, the stark difference in cost might be enough to pick up the older model for a classy look at a fair price.