Deal: Save 15% on Samsung Gear S3 Classic and Frontier, now just $299.99
3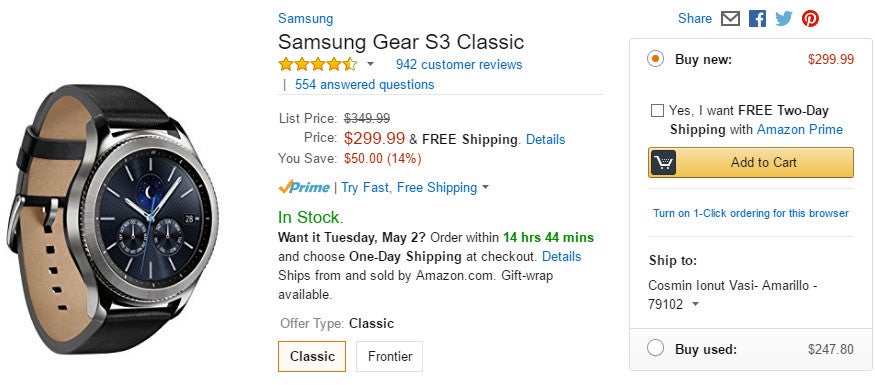 The most recent Samsung smartwatches, the
Gear S3 Classic
and
Frontier
are available for purchase in the United States for a few months now. The more reason for the South Korean company to team up with local retailers to provide customers with appealing deals on the smartwatches.
One such deal is offered by Amazon, as the US retailer is selling the Gear S3 smartwatches for just $299.99. That's a 15% discount or $50 off the suggested retail price.
Keep in mind that the deal is only available for the US version of the smartwatches. The international models have a much lower discount (6%) and probably not worth mentioning.
Both
Samsung Gear S3
smartwatches will work on AT&T and T-Mobile, but if you plan on using them with Verizon, you'll be disappointed to learn they're not compatible with CDMA networks.
Verizon announced recently it has decided to
delay the Gear S3 Frontier
and Classic until the end of June. The good news is they will eventually arrive at the Big Red and customers will be given the chance to take advantage of some promotional offers.
Although 15% off the MSRP is not much, Amazon is offering the best deals on Samsung's smartwatches, so you might want to keep an eye on the US retailer for higher discounts if you still can't afford the Gear S3.