Samsung introduces a 4G LTE version of the Gear S3 Classic
5
The
Gear S3
is one of the most successful smartwatches outside of the
Apple Watch
, and it comes in two flavors: both are almost equally big and imposing, masculine timepieces with some slight differences. The Gear S3 classic ships with a less rugged look and a leather band, while the S3 frontier has a more sporty look, with textured buttons and a rubber strap. Up until today, the S3 frontier was also the only one that you could opt to get with cellular data on board.
This changes today as Samsung officially announces that the Gear S3 classic will get a 4G LTE-enabled model that will work with carriers.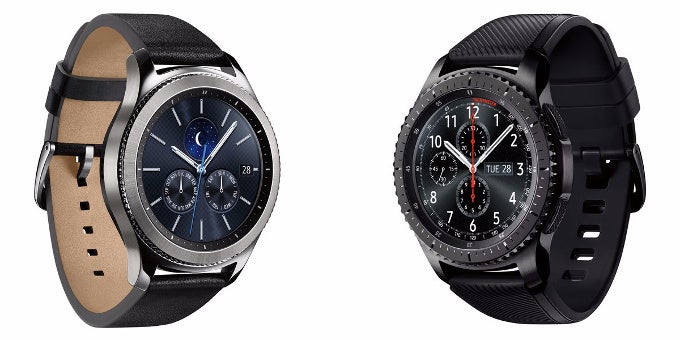 A 4G LTE smartwatch is a great thing to have: it is completely independent from your smartphone, meaning that it uses its own connection to update weather info and notifications, and you can even place and receive calls straight on the watch, even when your phone is not around. The new data-toting S3 classic will work on AT&T, T-Mobile and Verizon Wireless. The one-number solution offered by many carriers, also mean that calls and texts will automatically get transferred to the same number on your watch.
New features for the LTE Gear S3 classic include a quick gesture to accept or reject calls, by just turning the rotating watch bezel.
Currently, both the
Gear S3 frontier
and S3 classic sell for $350 for the non-LTE model, while the 4G LTE version of the S3 frontier retails for $400. We guess this will also be the price of the S3 classic 4G LTE model when it becomes avialable
RIDGEFIELD PARK, N.J.--(BUSINESS WIRE)--Samsung Electronics America, Inc. today announced 4G LTE availability of the Gear S3 classic, bringing enhanced LTE connectivity to the elegant and stylish smartwatch so users can call, navigate, pay, and more, all without their phone. The LTE version of the Gear S3 classic will be available from AT&T, T-Mobile and Verizon.
The launch of this new classic model gives LTE shoppers the choice between the bold, modern Gear S3 frontier or the refined, traditional Gear S3 classic. The classic model was designed meticulously to attain the same consistency and balance of a well-crafted luxury watch and features the minimal, yet elegant style of many iconic timepieces. With a full-color, Always On Display, the Gear S3 classic tells time at a glance just like a traditional watch. Despite the elegant design, the Gear S3 classic maintains the same rugged, military-grade durability and IP68 water resistance found on other Gear S3 devices.

"The new Gear S3 classic LTE raises the bar for connected smartwatch design," said Alanna Cotton, vice president of marketing at Samsung Electronics America. "Adding LTE connectivity to the Gear S3 classic gives users the ability to stay connected on the go, even when they leave their phone behind."

The LTE version of the Gear S3 classic will empower users to enhance their smartwatch experience with the ability to receive and reply to calls, texts, and alerts from their favorite applications1. Additionally, with one number solutions (available on all LTE models and U.S. carriers), calls from your Samsung smartwatch share the same number as your smartphone, making it easy for friends & family to recognize.

By utilizing the built-in GPS functionality consumers can also track their daily fitness activities, while the Alti/barometer and Speedometer allow users to track everything from distance traveled to sudden changes in weather.

Samsung also built additional functionality in the already popular rotating bezel. With just one turn of the bezel, users can answer or reject calls, read messages and access the apps they need. By writing or drawing on the display, messages can automatically convert to texts and emojis. Users can also create short reminders and to-do lists to manage even the most hectic schedules with the Reminders application.

Featuring unprecedented mobile payment integration with Samsung Pay, users are able to make a purchase almost anywhere they can swipe or tap a card. With Magnetic Secure Transmission (MST) and Near Field Communication (NFC) support, Gear S3 users are able to make a purchase with Samsung Pay at over 90 percent of the top 250 merchants across the U.S.2

Samsung Pay for the Gear S3 classic LTE delivers the enhanced security of the industry-leading Samsung Knox platform, so users can feel safe and secure knowing that their credit and debit information will remain protected.

Wireless providers will share availability and pricing.