Deal: Samsung Galaxy S7 and S7 edge now available at great prices on eBay
33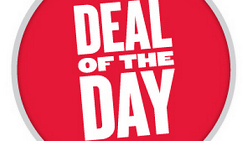 The international, unlocked variants of the Samsung Galaxy S7 and the Galaxy S7 Edge can be currently had at great prices from eBay.
Starting off with the standard version of the
Samsung Galaxy S7
, the international variant of the phone, in its unlocked variety, can be had for just $559.
Seeing that the unlocked Galaxy S7 is priced at around the $700 by carriers and retailers, this is a very good deal for what many consider as the best non-phablet currently available on the market. On the downside, only the gold variant of the phone is available at this price. For much more details about the handset, check out our full
Samsung Galaxy S7 review
.
The larger and more interesting
Samsung Galaxy S7 edge
, which usually retails at nearly $800 can be had at just $628.99 on eBay. Those with an eye for large-screened smartphones are probably well aware that this is a very good price for what can be considered the best smartphone that money can currently purchase. All three color variants - black, gold, and silver - are available and the offer also includes free US shipping. Head on over to our full
Samsung Galaxy S7 edge
review for a complete analysis of the phone.
Both of these phones come with the Exynos 8890 chipset, which is what Samsung equips its flagship phones with in most markets. The US version comes with a Snapdragon 820 chipset, which is a fast beast on its own, but just not as fast or as power efficient as the Exynos 8890. Unfortunately, these phones lack Samsung Pay support, which is a bit of a bummer given how easy it is to pay for goods and services using Samsung's mobile payment technology.
These phones are unlocked models that will work on GSM carriers such as AT&T and T-Mobile. Sprint and Verizon customers should look elsewhere. Another thing to bear in mind before committing to a purchase is that these phones do not come with a warranty, meaning that you'll have to pay for any potential repairs yourself, although this drawback can be solved by getting a device insurance plan.