Deal: Microsoft Band smartwatch drops below $150 price for a limited time
3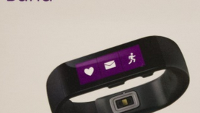 Originally introduced during October of last year, the
Microsoft Band
is Redmond's first delve into the modern smartwatch arena. As with competitors from LG, Motorola and Apple, the Microsoft Band's forte is in fitness tracking, while also providing the usual dose of notifications from a connected smartphone running on Windows Phone, Android or iOS. With a rather low-key, U.S.-only launch, it's clear that Microsoft has rolled this product out in order to test the waters, but if you've been waiting for a price drop, Target has the wearable on sale for 25% off.
The early battle of the smartwatches has been underpinned by a wide selection of sensors. Most of the devices gracing the retail market are packed to the gills with sensors, and the Microsoft Band is no exception. Under the hood, you get your optical heart rate sensor, GPS, 3-axis accelerometer, gyrometer, and ambient light sensor. There's also a skin temperature sensor, capacitive sensor, UV sensor and a galvanic skin response sensor.
In our
Microsoft Band Review
, we noted of the device's promise, with accurate readings of calorie burn courtesy of the always-on heart rate sensor. With a few decent smartwatch-esque quirks and compatibility with the mobile industry's Big Three software platforms, there's no question that the Microsoft Band does have some things going for it. With that being said, the design could use some work, with a bulky, uncomfortable construction. Moreover, the battery life is not too great, so if you do decide to snap up the Microsoft Band, do consider that you're paying for an experiment rather than a refined, finished article.
The deal expires on July 25th, so you have the duration of this week to take your coupon code (at the source) down to Target and redeem. Unfortunately, you'll have to drag yourself to a brick-and-mortar store if you'd like to buy this device, but your efforts will be rewarded with a 50-buck saving.
Will you be grabbing a discounted Microsoft Band at Target? Let us know via the comments!