Microsoft Band Review
8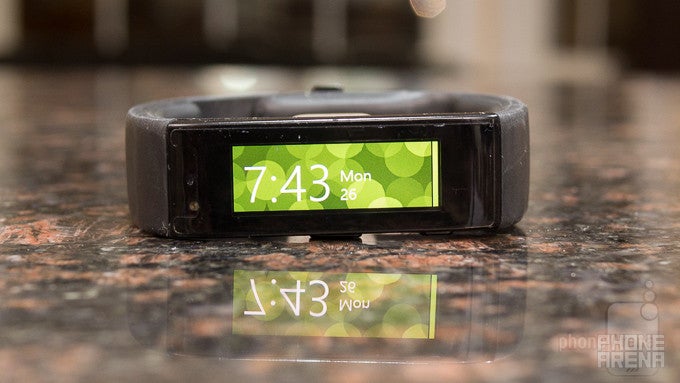 Introduction
Known as a company that prides itself in developing software that we all use in our daily lives, Windows and Office in particular, most people forget that Microsoft has also delved into making consumer products as well. Ah, we all remember Zune, right? And then more recently, we've been exposed to the company's line of Surface tablets, which surprisingly enough, has pushed into its 3rd generation. Jumping on the whole fitness craze as well, the Microsoft Band blends all of the features we'd want to find in a fitness tracker, but it's also packing along some smartwatch functionality as well. At the end of the day, though, it'll be interesting how this latest consumer-end product fairs in staying head-above-water in the lucrative fitness market.
Packaging contains:
Proprietary USB charger
Quick start guide
Design
It's a conventional design with an odd fit, which never makes it sit comfortably on our wrist.
Going for the conservative look, the Microsoft Band looks very much like any ordinary fitness band – though, we'd say that there's considerably more heft attached to it. Available in three different sizes, where black is the only color option that's available, the overall design language is pretty conventional and a little boring. The band, for the most part, features a thermal elastomer material that exudes a soft touch finish, but there are glossy areas that help to break up its design.
In terms of its fit, we're not particularly fans of how it feels on our wrist. Whether we wear it the normal way or inverted, it lacks the ergonomic feel that we get from other bands. Wearing it the traditional way, the flat nature of the display doesn't conform to the slight curvature of our wrist. However, we find it better to wear it the inverted way, where the display is positioned on the inside of our wrist – albeit, it loses its appeal because the display isn't really being showcased. Luckily, the clasp is something we like, since it's adjustable and can easily be attached/removed.
On the underside of the Microsoft Band is the proprietary charging port. It's not something uncommon to tell you the truth, since many fitness trackers utilize proprietary connections, but we appreciate that the connection here with the Microsoft Band is magnetic. Meanwhile, the clasp of the band accommodates the heart rate sensor, which glows in an iridescent neon green color when it's activated.
Naturally, the hefty size of the Microsoft Band is attributed to all of the hardware components it's packing along, which is more than what you'd find in other fitness trackers. To be more exact, it features a 3-axis accelerometer/gyro, gyrometer, optical heart rate sensor, GPS, skin temperature sensor, UV sensor, capacitive sensor, Galvanic skin response sensor, haptic vibration motor, Bluetooth 4.0 radio, dual 100 mAh Lithium-ion batteries, and a microphone. Indeed, it's commendable for the amount of things Microsoft has stuffed into its package, but like we said, it's beefy in terms of its size – though, it definitely gives it substance.
Even with its solid construction, the Microsoft Band doesn't share the same high-degree of water-resistant as other comparable models. Unlike some models we've checked out, like the stuff from Fitbit, the Microsoft Band isn't waterproof. Meaning, it's not something that's meant to use while swimming or taking a shower – though, it's safeguarded from things like light rain and washing your hands.
Display
Best of all, we can view relevant data directly on the unit's display – as opposed to relying on an app.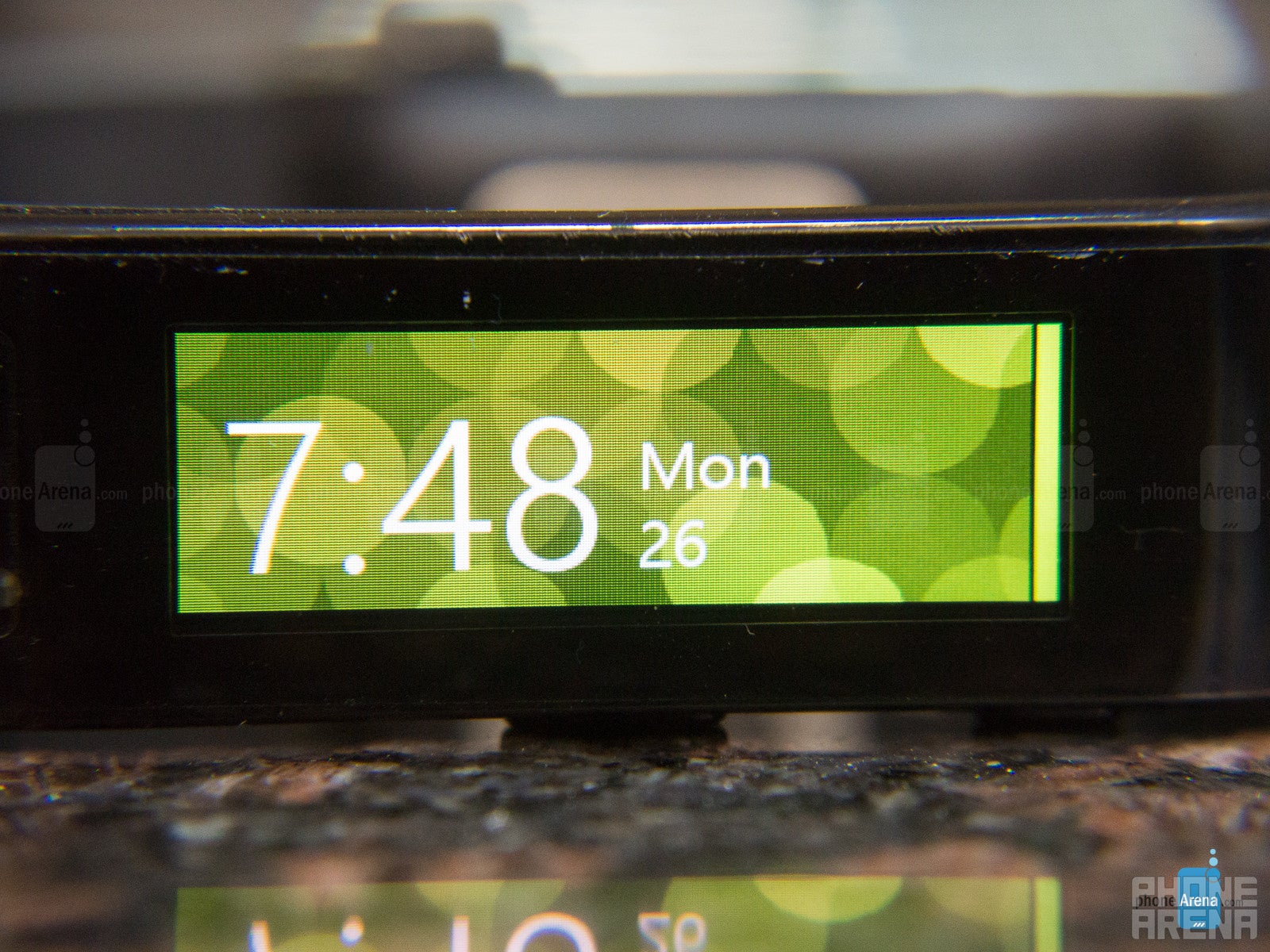 Not all fitness bands flaunt color touchscreens, so we find the Microsoft Band a little bit more versatile in what it offers thanks to the 1.4-inch 320 x 106 TFT touchscreen it's sporting. As we've noted earlier, our main problem is the flat nature of the display – where it doesn't feel comfortable when it's worn on our wrist. In comparison, the Samsung Gear Fit, which features a curved screen, makes it more ergonomic when worn – thus, feeling more comfortable.
Despite that, the screen itself is pretty detailed, bright, and quite useful in what it can display. The brightness is more than potent to make it visible on bright, sunny days – while its touch accuracy is pretty spot-on as well. However, we're not thrilled about how the display is easily scratched. Therefore, you'll probably want to invest in picking up a screen protector if you want to keep it looking pristine.
Two buttons line the bottom edge of the display, where the larger one is used to power it on/off, with the other smaller one allowing us to cycle through what various fitness information. Likewise, the smaller button can be held down for a longer period of time to access Cortana, which is only available when it's paired with a Windows Phone. When it's powered on, the first thing we're greeted to is the homescreen, which displays the time and relevant fitness data. Swiping to the left opens up additional tiles that allow us to view various notifications, the call list, launch Cortana, view calendar appointments, selecting workout routines, and much more.
In all fairness, the display, much like the design of the unit itself, is pretty ordinary and conventional. We've seen some spectacular looking displays in other wearables, like the Samsung Gear Fit and LG G Watch R, so we're not particularly wowed by this one as much. Regardless of that, the fact that is employs a screen makes it somewhat more useful than other fitness only trackers because we can view various informational data tracked by it – whereas with other fitness trackers without displays, we have to rely on a smartphone to view them.
Recommended Stories