Dark Sky finally brings its down-to-the-minute, hyperlocal weather forecasts to Android
12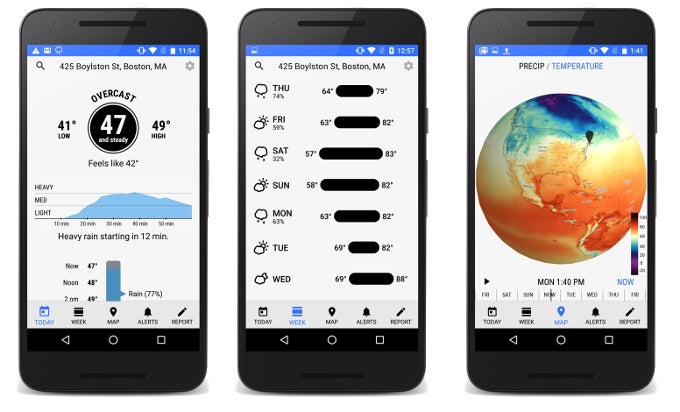 Google's Play Store is chock full of weather apps, but few are as good as a certain weather app that was exclusive to Apple's ecosystem until now - the essential Dark Sky.
The exceptional weather app is a personal favorite of many, including us, and is now finally available for Android devices in the US, UK, and Puerto Rico. What makes it so good? Well, the forte of Dark Sky is its ability to provide timely hyperlocal weather alerts. Its next-hour notifications will promptly notify you if precipitation is expected in your area in the next hour or so, or if the temperature is expected to drop/raise significantly. Additionally, the to-the-minute 24/7 weather forecasts are extremely useful.
Dark Sky also has doppler maps, which is as cool as it's nifty. Home screen widgets naturally made the cut either, allowing you to check out the weather forecast for the next hour, day, or week straight from your home screen.
Unlike its iOS counterpart, which can be yours after a one-time payment of $3.99, Dark Sky will be available for free on Android. The catch? The free version only comes with 24-hour and weekly forecasts. You will need to shell out $2.99 per year for the premium version, which comes with the full suite of features. This is an experiment on Dark Sky's developer end, but fortunately, a free two-week premium trial has been thrown in, allowing you to test the full functionality of the app before you jump on the train.