DROID 3 gets one-click root, could extend to all Gingerbread Motos
10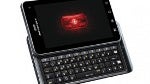 The Motorola DROID 3 is locked down no more. It was a good day for the root community. Earlier today, a root method was finally found for the DROID 3, and just hours later a (pseudo) one-click root method was created by Framework43 and psouza4. And, best of all, it looks like this root method will work on all Motorola phones running Gingerbread, including possibly the soon to be released DROID Bionic.
Of course, once there is a reliable root method, the only thing left is for some custom ROMs to be build for the phone. Everything is part of the cycle. Just about a week ago, the source code for the DROID 3 was released, and made its way to the XDA forums. That source code not only lead to this root method, but of course will be used to build the first custom ROMs, which are likely already in development.
We say above that this is a pseudo-one-click root method, because there are a few steps to go through before getting to the one-click, but none of it is all that difficult. This root method has also been tested and found to work on the DROID X, DROID X2, DROID Pro, DROID 2 Global, Cliq and Cliq 2. As always though, you are rooting at your own risk. You'll find instructions and the files needed at DROID Life.