CyanogenMod sprints past the 500k installs mark
7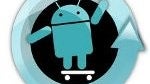 Last month, I commented on how the mod
community is finally starting to get some respect
from manufacturers, as seen in the loosening of policies on locked bootloaders by
Motorola
,
HTC
and
Sony Ericsson
, and with Samsung giving Galaxy S II handsets to Cyanogen developers to work on builds of the popular CyanogenMod for the device (which is
just around the corner
.) Now, CyanogenMod has hit a milestone in its install base, crossing the 500,000 mark.
As of the writing of this article, CyanogenMod was sitting at just under 510,000 with ~381,000 official installs, and 129,000 unofficial installs (KANGs). The install base is averaging about 4k new installs per day.
Of course, a total number of 510k isn't that much when you consider that Android is supposedly
activating 550k new devices per day
. That said, even though CyanogenMod is the most popular custom ROM, it still represents only a fraction of rooted devices running custom ROMs. CyanogenMod is popular because of its ubiquity. Most major devices, barring any real anti-hacking tech in the bootloader, will have a CyanogenMod build. And, the team is amazing at pushing out fast, reliable updates, often faster than any manufacturer would.
It may be a small community, but it surely has a lot of influence, and we're looking forward to seeing the updates and features added in the future CyanogenMod releases.