Cyanogen 9 race has begun, builds in 2 months?
22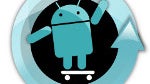 Everyone with a rooted device wants to know when Cyanogen 9 will make it out to their devices. Unfortunately, Team Douche doesn't like to promise release dates or even give much indication on when builds will be available. Instead, the team tends to stick with the "when it's ready" philosophy of development.
Even so, the official Cyanogen Twitter feed sent out a cryptic tweet today that at least lets us know when things may be revving up. The tweet said simply "..and we're off. check back in 2 months :) #cm9 #ics" So, the best we can gather from this is that the team is working on Cyanogen 9, and that the team won't be answering questions on "when" for 2 months. Still, a 2 month turnaround does seem pretty realistic given the team's past performances.
Unfortunately, even if we do see builds in 2 months, they will likely only be for the Galaxy Nexus and the Nexus S. As our regular rabble-rouser, remixfa, pointed out when we announced that Ice Cream Sandwich had been
released into open source
, Cyanogen builds for phones are dependent on drivers for specific devices. That means it's hard for the team to make a build for a device unless that device has had source code released with compatible drivers.
source:
Cyanogen
via
pocketnow