#Courage or #DongleHell: these are the phones without 3.5mm headphone jack in 2016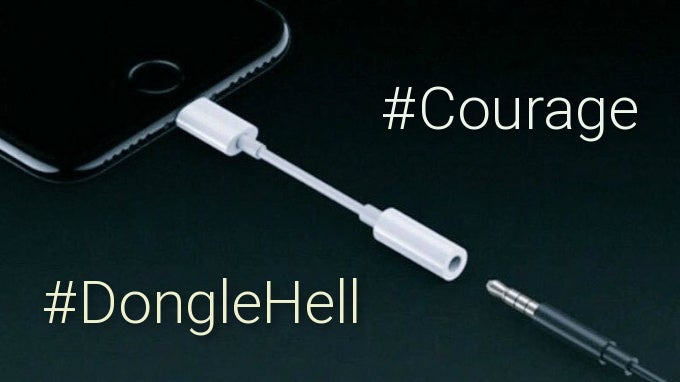 Courage. That's what Apple marketing chief Phil Schiller said it took Apple to remove the 3.5mm headset jack from the
iPhone 7
and
iPhone 7 Plus
. Others described it in less flattering terms: it was nothing less than a Dongle Hell.
The 3.5mm jack, a staple feature of every tech gadget in modern history, however, was not obsolete in the way that the disk drive, parallel ports, the stylus, and task manager were. And there does not seem to be a 'quality' reason why Apple removed the jack: the company itself is not explicitly saying that audio quality will improve in any revolutionary way if you channel the signal via a different port.
So will the future of phones be one with no 3.5mm headset jack? It's hard to say. After all, Apple was adamant about not supporting expandable storage via microSD cards on its phones for years, and while at first many Android phone makers agreed with its approach, these days, it seems that the microSD card slot is making a comeback and users are loving and requesting it.
Nonetheless, fact is that we already have the first few phones that ship with no 3.5mm headset jack. Here are the most notable ones and their reasons for removing the 3.5mm headset jack.
There are three main reasons to remove the 3.5mm headphone jack, according to various people at Apple. They boil down to the following: removing the jack made it possible to
1/ include a much larger and better, optically stabilized camera
2/ feature larger battery
3/ water-proof the phone.
"It was holding us back from a number of things we wanted to put into the iPhone,"
Apple senior VP of hardware engineering Dan Riccio says.
"It was fighting for space with camera technologies and processors and battery life. And frankly, when there's a better, modern solution available, it's crazy to keep it around."
Interestingly, none of these reasons mentions improved audio quality. However, while it's not explicitly mentioned, we've seen new Lightning headphones with their own DAC, which come with granular EQ control and improved quality. Apple is also pushing towards a future with no wires, and that's certainly convenient.
Lenovo's flagship in the Western world, the Moto Z was actually the first mainstream phone to ship without a 3.5mm headset jack, outpacing the iPhone by a few weeks. Announced in June and launched in September, the Moto Z is one of the thinnest devices out there measuring just 5.2mm thick. However, we've seen devices out of China measuring down to 5.1mm in terms of thickness that showed that it's possible to have such a thin device and still keep the headphone jack.
The reasons why the Moto Z kills it, though, seems to have more to do with two reasons:
1/ audio quality and
2/ a larger battery.
The company includes a USB-C to 3.5 mil adapter in the box with the Moto Z, but it shows Lenovo's belief in a future of USB-C headphones.
The HTC
Bolt
is the latest phone with no 3.5mm headset jack in 2016, and it emphasizes this as an advantage thanks to a pair of brand new HTC BoomSound Adaptive Audio
earbuds
. The unique feature of this pair of headphones is auto measurement and calibration to your ears, and the creation of a custom audio profile. They also boast a larger-than-average speaker, and a quality-made diaphragm.
While HTC is not giving an official reason why it's given up on the 3.5 mil jack, it seems that the quality improvement possible with USB-C in the Bolt has played a major role.
#4: LeEco phones including Le 3 Pro
LeEco, a Company that started as the Netflix of China of sorts, has recently entered the US market with a bang with its ambitious lineup of phones, TV sets and even an electric bicycle.
Its phones are probably its newest division, but they are already selling in significant quantities in Asia and are starting to expand to other parts of the world. They generally feature stylish metal designs like so many phones these days, but unlike many phones, they have taken the decision to get rid of the 3.5mm headset jack in favor of USB-C.
The reason? LeEco's president of research and development Liang Jun says that the top reason for that move is achieving greater clarity and quality of digital audio via the USB-C port.
Conclusion
2017 and 2018 will show whether the 3.5mm jack will survive
This sums up the modest selection of phones with no 3.5mm headset jack in 2016. Many will be relieved that there are so few phones without the traditional 3.5mm headset jack as so many people still rely on it.




The real test for the good old 3.5mm jack, however, will be in the next couple of years when we'll see whether Samsung, LG, HTC and Google decide whether it's worth going with such radical measures in their next flagships.