Counter-Strike built for Android by XDA dev
3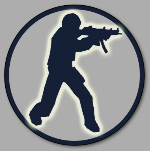 If you love first-person shooters and online multiplayer, chances are you've played Counter-Strike at some point in your life, and now thanks to an amazing indie developer, you can get your CS fix on Android.
Counter-Strike began life as a Half Life mod, which was then turned into its own entity by Valve. It has spawned sequels and been the indirect cause of many many failed college courses. Counter-Strike Portable has been incorrectly labeled a port by some, but actually developer FrIuNs built this app from the ground up using Unity 3D. The game isn't finished, but supposedly can already support over 600 players online. This is especially nice because the game supports cross-platform play between the Flash, Facebook and Android versions.
Of course, cross-platform play sounds all well and good, but what it actually means is Android players will be at a distinct disadvantage to those able to play the game with a mouse and keyboard. Still, the game looks good, and we've already gotten ourselves killed a number of times.
If you want to grab the game, there are separate versions for
Android 2.0-2.2
and
Android 2.3+.
source:
XDA
via
Droid Gamers