Cortana appears on video, promises to "make life a bit easier for you"
28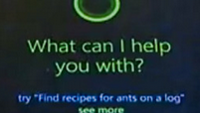 A video of Microsoft's virtual, voice-activated personal assistant for Windows Phone, Cortana, shows off Redmond's Siri and Google Now challenger. The video shows how a Windows Phone 8.1 user will have to agree to allow Cortana to look at their email, browser and search history, text messages and calendar. The next step is to use a Microsoft Account to sign in.
The video shows Cortana pinned to a Live Tile on the Start screen. When first activated, the virtual assistant asks what name you want to be called. Cortana also asks what the most enjoyable parts of the user's everyday evenings are and also asks some questions about food. There are also some other questions asked including one about what topics you like to read about. This is done so that Cortana knows a little about the phone's owner before it is put to use.
Characterized by a circular icon, Cortana asks "
What can I help you with?
" when activated. The video also shows that Cortana will also house a new feature called Quiet Hours which allows the virtual assistant to handle calls and texts while you're sleeping, or have a meeting scheduled on your calendar. The clip unfortunately did not show the virtual assistant answering a question or responding to a command.
Keep in mind that this may not be the final build of Cortana, which is part of the Windows Phone 8.1 package
expected to be revealed at Microsoft's Build Conference early next month
.
source:
UnleashThePhones
via
Engadget