Cordcutters, unite! A fifth of US households now get their Internet via mobile devices
10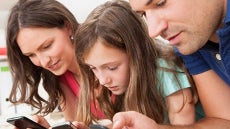 We've been been hearing about the cordcutting trend for a while now, with that term encompassing both those who don't subscribe to the traditional cable TV package, and those who are receiving their bits and bytes directly over the ether.
Now, we actually have a survey to support the notion that cordcutting is a trend indeed, and an accelerating one at that. The National Telecommunications and Information Administration (NTIA) did its bi-annual survey of about 53,000 households about their state of connectivity, and released the results recently.
It turns out that last year a fifth of households that are connected to the Internet, are getting it via their mobile devices, no cords attached. Of course, this is mostly due to the fact that it's cheaper to just have a shared data plan, than tack on cable and net subscriptions, so affluent households are twice less likely to only rely on wireless. Still, this share is up twofold from the 10% in 2013, and only seems poised to grow exponentially from here, given the ever increasing gigabytes of data that carriers and other wireless suppliers are offering for a set amount of money.