Concept video shows creative and practical uses of Google Glass
9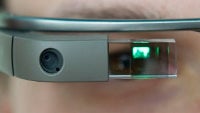 Google Glass might be mocked all over the place, but it remains a mind-bogglingly futuristic idea - wearing a display with a camera that is connected to the Internet at all times is pretty empowering. Right now, though, it seems that developers are treating Glass just like a smartphone or a tablet and it's not. Most of us here are news junkies, but even we are not in a huge need of a New York Times app that pushes news straight to your eyeballs on Glass.
Those news about smartphone apps arriving on Glass have dumbed down the expectations and turned the futuristic smart glasses into a pretty dull idea. It does not have to be that way, though. There are plenty of creative fun and practical uses for Glass and company Playgroundinc has summed a lot of them up in a very inspiring concept video for Glass.
Pondering over what it would do with Glass, Playground gives simple and practical ideas - quickly scan items to learn more about them, and stack them up in lists so you can track your spendings in say a food store. Bug Glass could also be a bike computer replacement, a wallet, a calorie counter, an emergency situation helper.
Take a look at the concept video below, what do you think, could you add some more practical uses of Glass and heads up displays in general?
source:
Playground