Company with one patent to its name sues Apple over FaceTime and more
60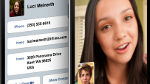 The problem with business in America these days is that owning a patent is looked at as holding a
lottery ticket
by many
patent trolls
firms. Take Intercarrier Communications, out of Texas. With an intellectual property portfolio consisting of one patent for something that they didn't even invent, ICC is taking a number of major corporations to court including Apple. The patent was granted in 2006 for "an inter-carrier messaging service providing phone number only experience," and was assigned to ICC just for the express purpose of filing the law suit against Apple and the other firms.
Speaking of the other firms, the list of defendants includes Apple, Broadsoft, Inerop Technologies, Iris Wireles, Mobiweb and others. The suit was filed in eastern Virginia district court and Judge John A. Gibney will be presiding. As one of the most valuable companies in the world, and with more money in the vault than Scrooge McDuck, Apple is a natural target for patent trolls like ICC. The latter claims that Apple's
FaceTime
infringes on its '748 patent.
Will Apple pay ICC to go away? Somehow, we doubt it. Paying off ICC would invite every patent troll in the world to line up for a big pay day. For the legally inclined, you can read the lawsuit below.
source:
Scribd
via
electronista