Cold Alley brings "next-generation air combat" to Windows 8 and RT devices
3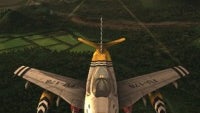 Microsoft doesn't often release games, but when it does, they are usually flight simulators. Cold Alley is an air-combat game for Windows 8 and RT devices, which costs $6.99 in the Windows Store. Allegedly, it features an "extensive, story-driven campaign" and "expanded single player modes", such as Dogfight Missions, Survival, Free for All, Team Deathmatch, Capture the Flag, and Defend The Base. Interestingly, most of these sound like multiplayer options, while online battles aren't mentioned anywhere. However, in regards to gameplay modes, Microsoft promises that future updates will bring even more ways to play.
Judging by the screenshots, Cold Alley is quite the looker for a game that's meant to be played on your Windows 8 or RT tablet, as well as your PC. Its visuals almost resemble the quality of Xbox 360/PS3 launch titles. The plethora of graphical effects, such as bump mapping, volumetric clouds, and day and night transitions is guaranteed to make tablet GPUs break a sweat. Also, the game boasts fully recreated cities for your sightseeing or carpet-bombing pleasure, as well as realistic weather and atmospheric effects from an aerial perspective.
According to Microsoft, Cold Alley is suitable for players of all ages. It includes manual and auto-pilot control, which means you can let the computer handle flying, while you command your squadron and gleefully obliterate the game world with missiles. You can follow the link below to get in the cockpit, but you should be aware that users of first-gen Surface RT and Surface Pro tablets have reported stability problems. The 934MB game is currently rated three stars out of five, which makes Cold Alley seem like another bumpy start in Microsoft's late history.