Hidden code reveals possible new features for Google Assistant
1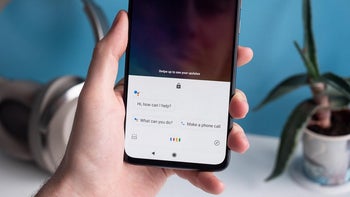 Code found in the Google beta app version 10.20
by 9to5 Google
indicates that some new features could be coming to Google Assistant. One string of code hints that a button will be available on the always-on display that will allow users to have the virtual personal assistant handle often requested tasks. The examples shown in the code include asking Google Assistant to play sounds to help the user fall asleep, or requesting the latest information about the weather. This feature will apparently be called "Ambient Mode." One string of code reads, "Do more while your device is locked and charging with Ambient mode."
Earlier this year,
Google reduced the number of tasks that you could ask Google Assistant to handle while your phone is locked
. This was done, according to the company, because someone could unlock the device by using a "similar voice or recording of your own voice." One of the strings of code discovered in the Google beta app gives this feature a name as it reads, "Use Voice Match to send messages and access your email, calendar, contacts, and more when your device is locked." Anything more personal, like opening an app, will require more than just a voice match. This prevents someone from using a tape of your voice to open a banking app that you use, for example.
Another string of code hints at a new customization feature for Google Assistant. The string reads, "Hi, I'm your Google Assistant, here to help you throughout your day! I can be more helpful the better I know you. Which areas would you like some help with?" Based on this code, it appears that users will be able to specify certain topics that they could use Google Assistant's help with during the course of a day.
Lastly, it seems that Google might replace the Routines feature. This allows Google Assistant to handle multiple actions by using a single phrase. There are six ready-made options including Good morning, Bedtime, Leaving home, I'm home, Commuting to work, and Commuting home. If you say "Good Morning," Assistant will turn off silent mode; adjust lights, plugs, the thermostat and other smart devices; give you a weather update; run through your calendar for the day; read your reminders for the day; raise or lower the volume of any media; and play music, news, the radio, a podcast or an audiobook. The discovered code appears to be offering a shortcut for users to browse the more than one million different actions that Google Assistant can do. Google could allow users to create new routines by suggesting popular action macros.
There is no guarantee that any of these new features will show up in Google Assistant, but it does give us an idea of what Google has in mind for its virtual digital helper in the near future.
Recommended Stories