Co-founder of BlackBerry, Mike Lazaridis, sells $26 million worth of BlackBerry shares
5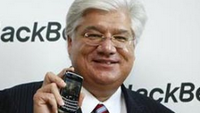 BlackBerry co-founder Mike Lazaridis, who years later
claimed to have understood the implications of the Apple iPhone
on BlackBerry's then booming business, has cashed in $26 million worth of BlackBerry stock. The 3.5 million shares that were sold by Lazaridis lowers his stake in the company to 4.99% from 5.68%. The sale was done in two parts starting on Monday when 3.17 million shares were sold at an average price of $7.55. The balance of the transaction, 333,107 shares, were sold at an average price of $7.63.
The SEC Form 13D filed after the stock sale was noteworthy because it canceled
Lazarids' stated intention to purchase BlackBerry
along with former co-founder Doug Fregins. Both had decided to see if it was feasible to buy the company they had both founded.
BlackBerry subsequently agreed to a $4.7 billion buy out
from its largest stockholder, Fairfax Financial. But financing could not be obtained for the deal,
which ended up failing
. Instead, BlackBerry received $1 billion in additional financing,
which it has nearly burned through
. Fregins still holds 2.26% of BlackBerry.
Since
announcing last week a net loss of $4.4 billion for its fiscal third quarter
, a number which includes a large charge for a write-off of depreciating inventory, BlackBerry shares have risen 26%
source:
TheGlobeandMail
via
Crackberry