ClearPlex shows us how tough its Samsung Galaxy S4 screen protector really is
8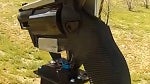 To their credit, the folks at ClearPlex make more than one screen protector too, but the company's presentation is definitely something new.
We have seen time and again videos of how electronics disintegrate when set up to literally take a bullet from a high powered rifle. The slow-motion footage is always cool to see, and we get to see more of that in this video too.
However, instead of a sniper lining up the scope from a prone-supported position, we see a remote controlled drone that has been rigged with a Taurus Judge, Public Defender .45 Colt/.410 Shotshell handgun. It is basically a hand-cannon that will fire shotgun-type shells or .45-caliber ammunition in traditional, or different gauge shot grain.
In this video, the ammunition used was .45 #9-shot, which has about 150 grains in each shot, so keep that in mind. The ammunition is nice for pest control, but initial muzzle velocity is about 1,000 feet-per-second, so you know there is going to be a somewhat decent show. The ClearPlex screen protector for the
Samsung Galaxy S4
is able to deflect the shot admirably.
ClearPlex's screen protector for the SGS4 and other devices is $15. If this video is enough to convince you to pick one up, click the source link below, but whatever you do,
do not try this at home
.
source:
ClearPlex