Classic Match Foosball table might just be the coolest $100 iPad accessory yet
4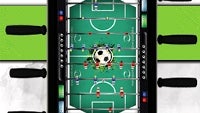 Foosball tables are awesome, that much we all agree on. They are equally tin place in your college dorm room, the corporate headquarters and the local dive bar as stress relievers.
Well, maybe not the typical college dorm room, as these places are tiny, so what's a company called New Potato Technologies to do but adjust the typical foosball table size to the iPad dimensions.
They did it before by turning the iPhone into a pinball machine with the iCade, but this here Classic Match Foosball accessory is a whole different ball game:
Complete with eight functional 2-axis control bars and real scoring markers at each end, this app enabled accessory immerses you in game play as good as a tournament grade table, allowing the most expert player to show off their well-oiled skills.

Gameplay features all the elements you can think of in a complete simulation, but unlike simple software-only foosball emulation apps, this accessory brings the real deal to your iPad with advanced peripheral-to-game dynamics for an incredible experience.
Sounds pretty enticing, and $100 seems well-spent here to try and test how long is your docked iPad going to survive a heated game in a miniature table like the Classic Match Foosball accessory. There is, of course, the obligatory iPad tablet app you have to download to enjoy some rapid handle bashing.