Russians do a drop test with iPhone 6 prototype on Red Square, like that's a thing (videо)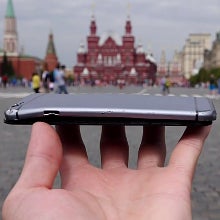 Ever seen a drop test performed with a prototype? Well, apparently that's a thing now, as the enterprising Russians from a popular tech blog there, have scooped up an
iPhone 6
prototype in grey, and tried to determine how the real thing will land when dropped. All due respect to the tryout, but the weight distribution of the real thing, when filled with the finalized silicon, screen package, and other internal paraphernalia, could very well be dramatically different than what the alleged prototype suggests.
Nevertheless, just as any self-respecting drop test goes, the guy drops the
iPhone 6
from waist and shoulder height, mimicking real-life scenarios, where you are taking the phone out of your pocket, or dropping it while talking with the handset to your ear. Needless to say, there are some corner dings and bruises, but they are far from indicative what would happen with the real, eventually metal-and-glass chassis of the upcoming iPhone 6. The entertainment value of the video below is pretty high up, though - after all, did you think you would see Russians crashing iPhone 6 prototypes on the Red Square when you woke up today? We didn't think so...