Alleged iPhone 6 chassis leaks on video, this time with the Apple logo cutout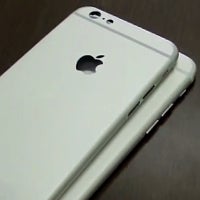 Ever wondered where the smorgasbord of
iPhone 6
and iPad dummies and mockups that are deluging the Internets these days is coming from? These mimic the alleged design of the
4.7" iPhone 6
, the
5.5" Apple phablet
, and
the upcoming new iPad
, down to the last button placement, and are said to be a faithful representation, based on real schematics.
Well, it turns out they are coming from China (surprise, surprise), and there's a bunch of those on the bulk retailer AliExpress, ranging from $30 for the basic 4.7"
iPhone 6
mockup, to between $150-$190 for those
golden 5.5" phablet bodies
you've seen here and there. The dummies are said to be based on real 3D molds and Apple schematics, likely distributed to case and accessory makers from rogue supply chain sources, like it has happened so many times before.
It's not exactly clear if the schematics themselves are the finalized design that Apple will use on the upcoming iPhone and iPad editions, or based on earlier prototypes, so take the latest iPhone 6 chassis leak that you see in the video below with the typical salty grain. It's worth noting that this latest video includes the Apple logo cutout, whereas previous mockups didn't have anything stamped on the back, so the chassis concept seen here, might very well be based on something nearer to the final retail version.