Cisco kills off their Cius business tablet, cites competition from BYOD consumer tablets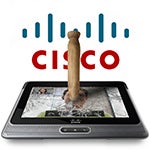 Back in 2011, Cisco Systems, the company that makes the hardware that the internet runs on, decided they would enter the Android tablet market. Only rather than make a consumer tablet, they
announced the Cius
, an enterprise tablet that would specialize in video conferencing and beefed up with enterprise-friendly provisioning and security.
The idea had some merit, but didn't catch on the way Cisco had envisioned, and today they announced they will "no longer invest in the Cisco Cius tablet", which of course is corporate speak for "we're cancelling a failed product". Cisco specifically cited the advent of the bring your own device (BYOD) paradigm as being a major driver – workers are bringing their own iPads and Android tablets to work, leaving a shrinking market for enterprise-specific devices.
Certainly there is a movement within IT professionals and software to service the BYODers – RIM's new
BlackBerry Mobile Fusion
management software caters explicitly at this trend, as it allows for IT professionals to provision and control security on a wide range of mobile platforms. At the same time the tablet market is
not nearly as mature
as smartphones, and the reality is that Cisco was agonizingly slow to execute with the Cius tablet; the device is still running Android 2.2 Froyo! In a world with new product cycles once or twice a year, you simply can't wait that long to update your product.
The good news for current Cius owners is that Cisco has indicated they will be bringing their 7" tablet up to Android 4.0 by the end of the year, so you will at least get a serious boost in speed and capability before being abandoned to the roving bands of BYOD devices. Cisco also announced they are doubling down on their software offerings that allow collaboration between devices of different platforms, so at least you'll be able to videoconference with your palls rocking the Google Nexus tablet or the latest iPad as the years go by.
source:
Cisco
via
Engadget