U.S. smartphone adoption is faster than any other major technology shift
3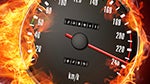 With smartphones already accounting for
more than half
of the mobile phones in the United States, we all know that the market is expanding rapidly, but how does this growth stack up with previous rates of technological adoption? That was the question asked by Michael Degusta in MIT's quarterly Technology Review. Or rather the questions, since adoption cycles go through three distinct phases, an early adopter phase (0-10%), a maturing stage (10%-40%) and finally achieve market saturation (40%-75%).
That distinction is important, as smartphones are just entering the saturation phase, so we really can't comment on how quickly it will eclipse that 75% mark. But looking at early adoption and market maturation tells us an interesting story. Reaching 10% of early adopters took about 8 years - fairly rapid, behind that of radio but a bit faster than PCs and non-smart mobile phones (see graphs below), but still more or less "in the pack" for most recent technologies (alert observers may have already noticed that tablets hit the 10% mark ridiculously fast, but we'll come back to that later).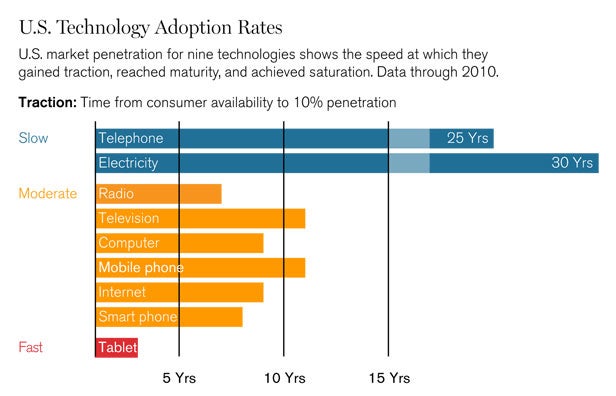 Where smartphones really pick up steam is in the market maturation process.
After taking the better part of a decade to reach 10%, smartphones zipped from a 10% adoption rate to 40% in just two and a half years, faster than any technology except television. But that shift in the rate of adoption doesn't seem to have stemmed from hitting a sort of critical mass where people saw smartphones and decided they wanted them, instead it precipitated from a specific event – the
launch of the iPhone
in 2007.
Before we have an epic clash of iPhone lovers and haters, let's all take a deep breath here: the transformative power of the iPhone on smartphone sales isn't merely because it was a great phone, but that it helped to open the smartphone market beyond hardcore business travelers, and it made a compelling case to those consumers. The result wasn't just a lot of iPhones sold, but that smartphone sales across the board grew rapidly (i.e. RIM sold more BlackBerrys after the iPhone launched).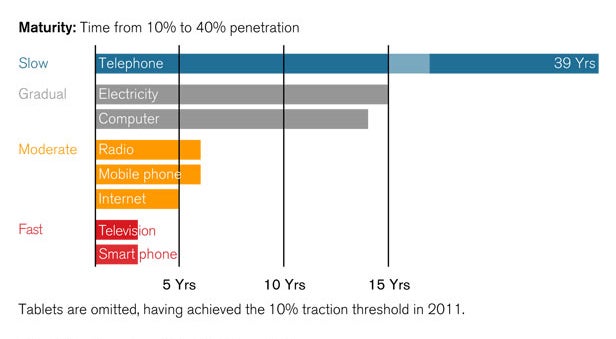 By transforming the smartphone market into a consumer electronics one, it also made everyone else start to focus on that larger market. RIM attempted to position itself as a messaging phone for consumers, Android successfully pivoted to a consumer-oriented OS, and Microsoft (eventually) abandoned Windows Mobile to create the consumer-oriented Windows Phone OS.
Those who moved quickly and competently to embrace the consumerization of the smartphone market are today's market leaders.
This change in smartphone market also coincided with roll out of 3G; the concurrent shift to online economic activity and the developing consumer app market helped to reinforce the new role of smartphones in our lives. We can't say for sure how fast smartphones will hit market saturation (75%) but they have already crossed the 50% mark, and with the roll out of 4G LTE networks and the continued march toward putting mobile devices at the center of our lives it would seem that smartphones should easily beat out the current reigning champion – TV. Television took a scant 5 years to move from 40% to 75% adoption, but smartphones may do it in half the time.
Not that smartphones should get too comfy with their title – they themselves have spawned the very technology that may beat them: tablets.
Tablets hit 10% of the market in less than three years - far faster than smartphones or anything else.
It's early days in terms of tablet adoption, and we can't know whether tablets will ever achieve PC-like levels of market penetration, but for the moment they are being adopted at a rate that mocks the standards set in the previous century and a half of technology adoption.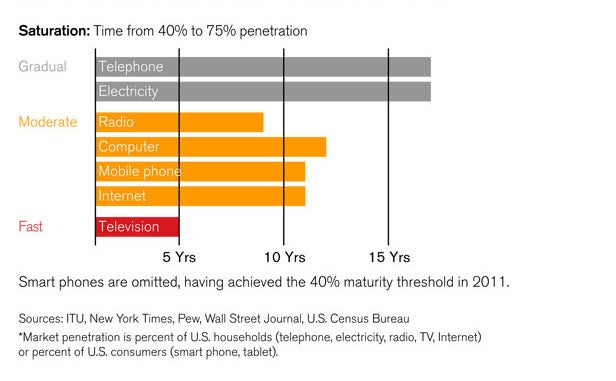 source:
technology review