China groups accuse Apple of poor environmental and work safety standards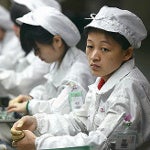 China green groups have publicly criticized Apple for "lax corporate oversight of its suppliers in China", i.e. for the reportedly inhuman conditions that some workers assembling parts for Apple's products work in.
This is not the first time Apple has been accused that people working in its supply chain factories are putting a shift in a sweat shop. Just to remind you of the highly controversial story of the Foxconn employee who
committed suicide
back in 2009 (and after that, there were a few more suicides as well), and further revelations that "
up to 50%
of Foxconn's employees are abused either physically, verbally, or financially. "
Ma Jun, member of the Institute of Public & Environmental Affairs (IPE), which played a part in publishing this report says that:
"We've found that Apple isn't honoring its commitment in ensuring its supply chain's work safety and environmental responsibility and giving dignity and respect to the workers.
[Apple] only care about the price and quality (of their products) and not the environmental and social responsibility issues. In some ways they drive the suppliers to cut corners to win their contracts.
Apple's lack of responsiveness eventually made us quite shocked. It's the whole complacency that it doesn't have to be account."
Just an example of these accusations is one of Apple's touchscreen suppliers - Lianjian Technology - which was accused of using N-Hexane, a toxic solvent. Reportedly, it poisoned at least 47 of the company's workers.
Apple has vehemently denied these accusations. An Apple spokeswoman has said:
"Our supplier responsibility reports document the progress of our extensive auditing program since 2006."
In the meantime, Apple managed to
topple Nokia
as the company with the biggest revenues, and is going from strength to strength
financially
.
source:
Reuters