Chinese hacker proves iPhone 6 Plus was made for running Windows 98
41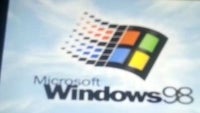 Out of the ways to celebrate Microsoft Windows' decades-old history, this has to be the most creative one by far. A Chinese tech-whiz went ahead and installed Windows 98 on an iPhone 6 Plus. We are still baffled at the sight and thought he might be running an elaborate script-based emulation of the pre-millennium Windows version, but this seems to be the real thing. He even enabled Chinese menus!
We got to say, it's a beautiful sight, in a way. The iPhone 6 is much faster, and its display is ways better than any computing hardware we had back in 1998. Computing has changed so much, yet Windows 98 is as vintage Microsoft as it gets - teal wallpaper, gray windows, and massively cryptic error messages. Oh well, at least it has a working Start menu!
Now, we are clueless as to what the Chinese hacker did to run this piece of desktop history on the iPhone 6 Plus, but reportedly, he used a legal version of iDOS, which probably does a fine job at emulating an ancient PC. So there's that. Meanwhile, you should check out Windows 95 running on a Samsung Gear Live smartwatch if you missed it! As for us, we'll be busting some Solitaire while keeping any Chinese guys away from the microwave, lest they install Windows ME on it!