Chinese app store visitors must now be identified with names kept on a list for 60-days
6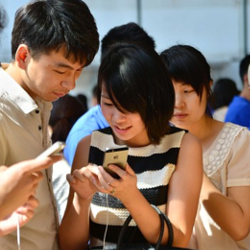 New regulations in China are in effect, and they require smartphone manufacturers and wireless carriers to track everyone in China who visits a mobile application "store." The list needs to be held for 60-days, and posts that include banned content must be reported to authorities. In addition, developers of mobile apps must have their identities verified, and mobile device users must grant permission for an app to collect personal data including information about their location and their contacts list.
The new rules were posted this morning on the Cyberspace Administration of China's website and the tracking includes visits to such popular app purveyors as the Apple App Store and the Google Play Store. By tracking visitors to these app stores and keeping an eye on their posts, the administration of President Xi Jinping can quickly censor criticism of the government while monitoring for content that is banned, such as porn. The new rules even impact China's search engine provider Baidu, which must report banned content and verify the identity of advertisers.
As with many regulations in the the country, the new rules are vague which means it is up to the authorities to decide how strictly it will enforce them.
source:
Bloomberg